"Chicken, when are you going to make the next block print?" inquired Bob.
It was mid-April, and I had recently finished "Tomatoes," the third in my "Mediterranean Foods" print series. Reviewing a jam-packed calendar of projects, travel, and shows that loomed before us, I replied, "Well, first I have to make sure all our artwork is matted, framed, and packed for the May art fair, before we head off to Vermont next week. But maybe I can get started later in May."
And off we went to our beloved nineteenth century farm house in Vermont, since 1940 our family's favorite refuge from modern city living. We walk wooded trails, hike Mount Mansfield, swim in a pond or a mountain stream, play board games, and have big family meals on the porch. Bob whistles as he does home repair projects, just as Grandpa did. The only outdoor sound is birdsong. Stunning scenery is all around. The air is fragrant. Troubles fade away.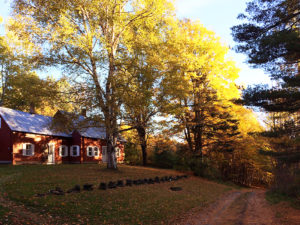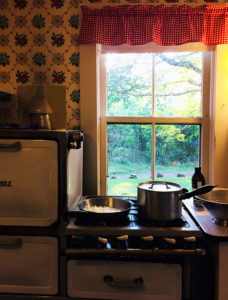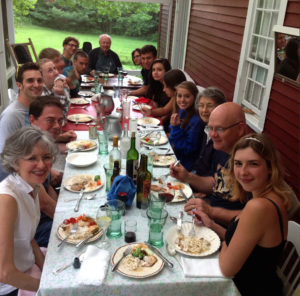 But this time we were going there to sell. After his heart attack last summer, Bob had suggested that maybe having to repair and maintain not one but two old houses was too much, and the family agreed. So we showed the house to a parade of kind visitors over a long weekend. A surprising percentage of New England home buyers seemed to be in need of an old, uninsulated farmhouse with no furnace and a circa 1930s kitchen on an unplowed "category four" road. Several offers came in, and in a few days we had a signed contract. We took a week to begin clearing out the house, workshop and barn of 78 years of stuff.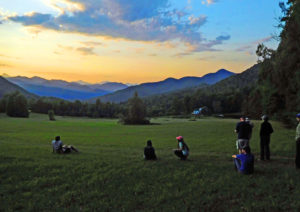 "So now can you start a new block print?" inquired Bob, as he drove us back to our city house in Western NY. I was on my phone, checking email. "OMG," I said, "we've been accepted into the Bethesda Art Fair, and it starts in three days!" Panic and chaos ensued, but we made it to the art fair, and stayed on for the following weekend's art fair in nearby Reston, VA.
By the time we returned it was nearing Memorial Day weekend. "How bout that block print?" said Bob. But I had a poster commission for the local zoo. It would be two Masai giraffes and a zebra, enjoying their new digs in the savannah exhibit. I had five days to get going on that, before we were off to another art fair.
And so it went all summer. June saw three art fairs, a final family reunion at the VT house, and the endless painting of giraffe spots. It was July 11 by the time the giraffes were finished, and we were heading off to two more out-of-state marathon art fairs. I thought wistfully of my carving tools and letterpress.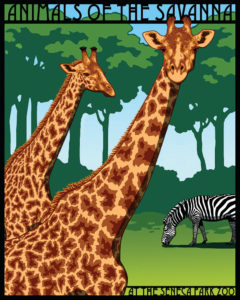 August was spent doing the final cleanout and closing on the Vermont house, and finishing another commission: a double oil portrait for a local college. The portrait would depict a married couple who were major philanthropists, and would be installed in the new music performance center they funded, in time for the opening gala in mid-September.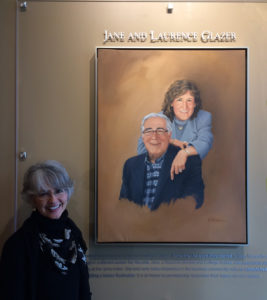 In the midst of all of this, since February, was the biggest project of the year: the planning and executing my daughter's wedding in mid-September. It was a huge, happy endeavor, shared by many family members. The day was most joyous: Alison, now 26, married the boy she has loved since the 5th grade (as evidenced by samplings from her grade school journals). Alison's big brother Clayton was the officiant. Congrats to Ali and Alex!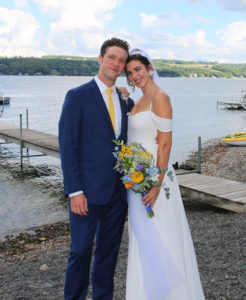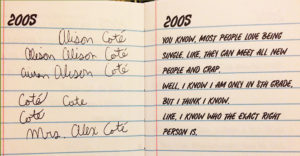 It is now the end of September, and finally, there is a new block print in process.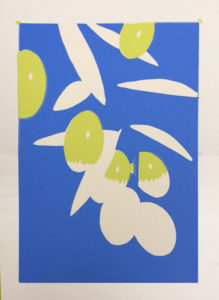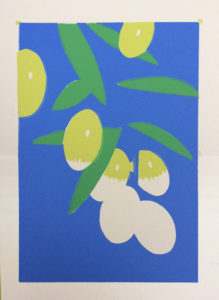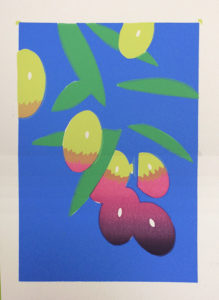 Two more carvings and printings to go. Thanks to Bob and everyone for your patience! –Laura